You're organizing a corporate event and you're wondering whether or not to include flowers in the décor. There really is no right or wrong answer, it all comes down to what you like or dislike.
Flowers can indeed change and enhance the ambiance of the event. They can bring in a breath of fresh air, set the mood, make the space more inviting and so much more.
Here is some advice on why and how to choose flowers for your corporate event if you want to.
Why choose flowers for corporate events?
When it comes to events, whether they are corporate or any other kind, the ambiance plays an important role. And what better way to elevate the event and create a certain ambiance than with flowers?
Flowers have the power to make almost any space more inviting. With flowers, you're not only bringing nature in but you're also creating a stress and anxiety-free space. So, one reason to choose flowers for your corporate event is so that your guests would feel welcome and relaxed.
Flower bouquets and arrangements can also be used for strategic purposes. Let's say you want to draw your attendees' attention toward the donations table or the table that showcases your newest product – use flowers. Beautifully arranged flowers will draw anyone's attention if placed in the correct places.
Flower arrangements in corporate events are also often used to impress attendees. Making time and putting effort into decorating the venue will show your clients and attendees how much you care about the event and how sophisticated your company is, as well. Rest assured that all that will impress them.
How to choose flowers for corporate events?
Knowing how to choose flowers for corporate events is very important. Unlike other types of social events, corporate events are supposed to be more serious and toned down – more business-like.
That's why the flower arrangements and bouquets should be picked out carefully and with a certain plan in mind. Let's see the best ways to pick flowers for corporate events.
1. Choose flowers according to the type of event
The first thing to consider is the type of event because this can greatly influence the kinds of flowers you choose. When it comes to corporate events, here you usually have either large events such as product launches, summits, and charity events, or you have smaller more laid-back events that include company celebrations, parties, and so on.
More informal events will have more toned-down, smaller flower arrangements, while product launches or charity events require something more extravagant, luxurious, flowers that will make your brand stand out. Basically, you'll be using flowers to set the tone of the event.
2. Choose the right colors
Once again, the color of the flowers you pick should depend on the type of event you're organizing. The flower colors you choose can evoke different emotions, and that's why you need to be careful as well.
If you're organizing a product launch event, you'd want to choose flowers that will remind attendees of the product you're launching.
But that's not all. The venue space also plays a significant role in the color of the flowers you choose. Space with neutral colors will allow you to choose almost any color you like, while spaces with bold color schemes, will make choosing flower colors more difficult for you.
3. Pick flowers season-wise
Another recommendation is to always go for flowers that are in season. These flowers will be beautiful and fresh and will give the space a completely different feel than opting for flowers that are not in season. Fresh, in-season, beautifully arranged flowers are also a great conversation piece. You can go a step further and give those fresh flowers to your special guests.
Just bear in mind, that while beautiful and fresh, in-season flowers are also quite a bit pricer than greenhouse-produced ones. Discuss the options with your floral stylist, they know the best, plus they may be able to get you a good discount somewhere.
4. Placement matters
Just as we mentioned above, the placement of your floral arrangements matters a lot. With the flower placement, you can draw attention to certain areas of the space. You can also place the flowers in areas where attendees will spend the most time.
If the lunch is the main event, make sure you decorate tables with flower bouquets. If the venue is big, make sure there are flowers in every corner of the space and that no corner is neglected.
5. Keep in mind design
The design of your flower arrangement should match, or at least resemble, the occasion, and your company's age – an older company should opt for a more luxurious, sophisticated design, while a younger one can get away with a bolder, more aggressive design.
Once again, the size of the venue and the space should be taken into consideration, as well. Large, tall rooms should be decorated with tall and luscious arrangements, whereas in smaller rooms, this kind of design would overpower the space.
6. Follow the trends
The last piece of advice to keep in mind when choosing flowers for your event has to do with trends. If you don't know which flower colors to choose for your upcoming event, you can check out which colors are trending right now and go with those colors.
According to experts, some of the colors that will be big this year include vibrant oranges and reds, browns, warm neutrals, beige-blush, elemental colors, and so on. So, you can choose your pick.
Regarding design trends, dramatic installations, non-traditional vessels, and bright and bold color flower arrangements will be trending in 2023.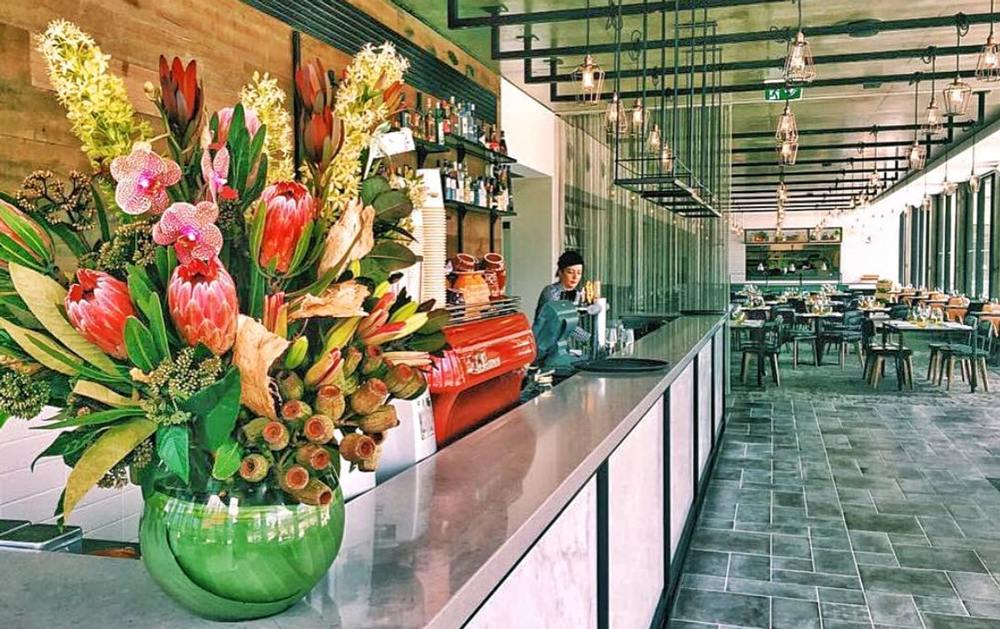 Types of flowers that are the most appropriate for a corporate event
Now that you know how to choose flowers for corporate events, let's talk about which flowers are most commonly used for such events. Great thing is that most of these flowers are available year-round, so you won't have any trouble getting them whenever you need them.
1. Roses
Believe it or not, weddings are not the only events that can have roses. Roses are mostly known as a symbol of love, but what you might not have known is that they also represent promises, hope, and new beginnings. That's why they are perfect for corporate events as well.
Honestly, roses are beautiful, elegant, timeless flowers that can suit virtually any event. There is nothing as elegant and sophisticated as a beautiful red rose bouquet. Other rose colors can also be very beautiful as well – from white, and yellow, to orange and pink.
2. Tulips
Tulips are ideal flowers for corporate events thanks to their unique yet colorful presence. You can find them in almost every color, but be careful which color you settle for because they each have a special symbolism.
For example, purple tulips symbolize perfection and royalty, and orange tulips mean friendship and energy. White tulips represent forgiveness and respect, while yellow ones stand for sunshine and cheerfulness. Choosing each of these colors can carry a deeper meaning.
3. Orchids
Orchids may just be the most popular event flower and that's thanks to their diversity. Orchids come in a wide variety of kinds and colors, which makes them ideal for any sort of event.
In addition to all the above mentioned, orchids are also quite exotic and pretty unique flowers, and having them displayed in one of your events can symbolize mystery, strength, beauty, and luxury. It's safe to say that these flowers are ideal for product launches and high-end business events.
Another bonus is that they are long-lasting, so you won't have to worry about them withering away mid-event. Some of the most common orchid colors to choose for corporate events include orange and yellow. Orange because this color stands for boldness, pride, and enthusiasm, and yellow because this one represents friendship and new beginnings.
4. Daffodils
You might disagree but daffodils are the most ideal flower choices for business events. Their look and color evoke positive feelings, boost the mood, and make any space brighter. Daffodils usually come in various shades of yellow or white and they symbolize rebirth and new beginnings.
All of this makes them ideal for business launches, and similar corporate events.
5. Delphiniums
Delphiniums are flowers that symbolize cheerfulness and goodwill. Their symbolism and colors (mostly blue and lavender) are what make them very appropriate for corporate events. They can bring a pop of color to any flower arrangement and texture, as well.
So, if you're not sure which flowers to start with, delphiniums are always a good first choice.
Cost of flowers for corporate events
If you're wondering about the cost of flowers for these sorts of events, let us tell you something more about that. The price will significantly vary based on the season, amount, and kind of flowers, as well.
Choosing winter flowers during summer or vice versa may be slightly pricer due to the process involved in getting those flowers. The sort of flower will also contribute to the price. Orchids are much more expensive compared to daffodils or carnations.
Whatever your choice is, know that you can never go wrong with flowers. Flowers have the power to transform any space, set the tone, and leave an amazing impression on your guests.