Are you confused about how to use OP Auto Clicker for Roblox? Then no worry, you are in the place to know more about How to use OP Auto Clicker for Roblox?
A lot of Mini-games are available in Roblox and nearly it has 100 million monthly active users those games require you to click Multiple times, You have to make multiple Clicks to move from one level to the next or you have to Click more to get Resources, so Roblox game lovers started using Auto Clickers, and one such Clicker which lasts long in their mind is OP Auto Clicker. You should know that Roblox Lovers are 2 million users and every day new users are adding to it and Playing the game with their fingers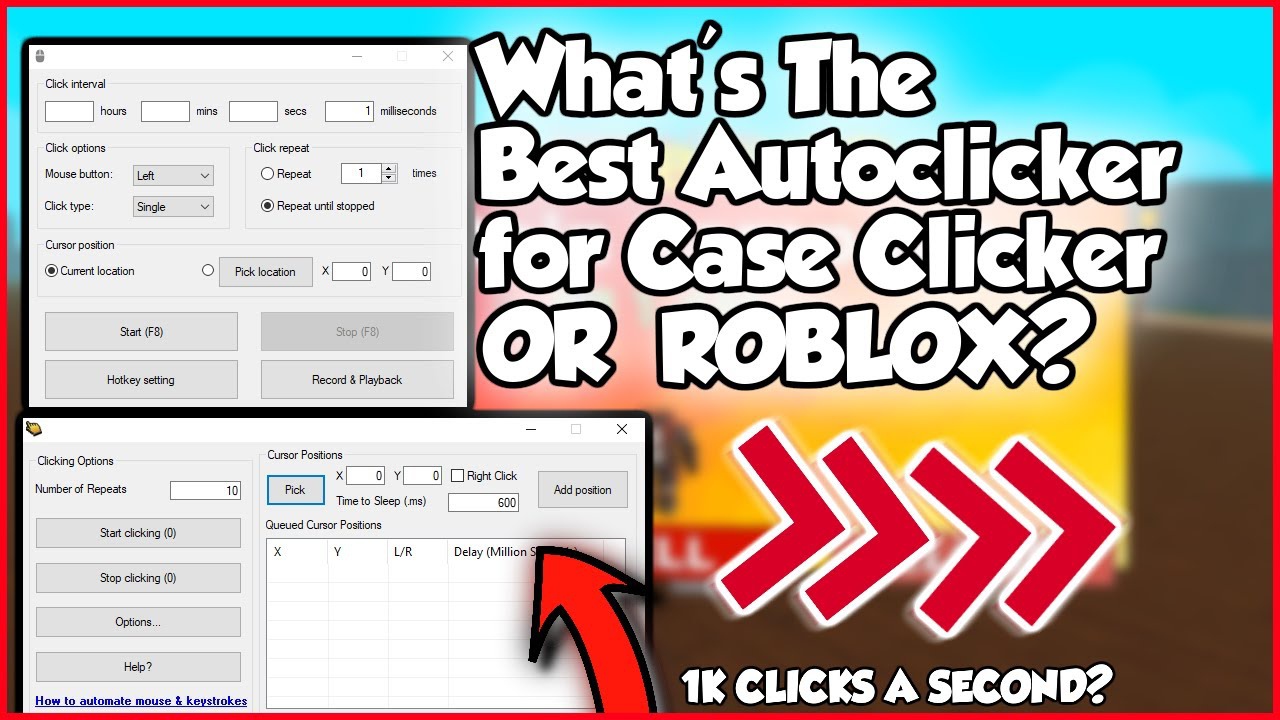 Sometimes it is very hard to play games for a very Long time with your fingers, to give pressure off your hands and Wrist, you can use OP Auto Clicker to make automatic clicks and ease your game moving levels.
Downloading OP Auto Clicker
You can download the OP Auto Clicker on its Official Website

https://www.opautoclicker.com/

or you can see our detailed Guide on How to Download OP Auto Clicker here.
Using OP Auto Clicker for Roblox
You can use the OP Auto Blocker in these Simple Steps, follow these steps then, you are great to go
Step 1: Once you have downloaded the OP Auto Clicker and installed it on your device, then double click on the file to launch the OP Auto Clicker.
Step 2: You will see a Popup and the easy and Simple Interface of the OP Auto Clicker.
Step 3:You can Click Interval at the top as shown in the image. First, you have to set up the Click Interval which determines the Click Rates in your Roblox Game. You can set Click Intervals in minutes, Seconds, and in milliseconds. It is best if you use one click per Second to free yourself from the Roblox Anti-Cheating System. Just 10 Milliseconds is enough if you want to go faster and reach the next level.
Step 4: Once you have completed setting up the Click Interval, then the next one you can do is set it up in the Click Options. Select the Mouse button dropdown, then choose the mouse button to be on the left or on the right or you can even set it in the middle. It is best to set the Mouse Button on Left Side for these types of games.
Step 5: After Setting up the mouse button, now you can set Click Type as Single, double or triple.As you are using OP Auto Clicker It is advisable to select the Single Click, Click type.
You Might Also Like,
xResolver: Xbox and PlayStation Resolver Platform (Updated 2022)
Step 6:Then, you can set the number of times the Click Type to be repeated. If you want the Click type to be Continuous, then you can just click, Repeat Until Stopped.
Step 7: After making all these changes, you can open your Roblox game and decide a particular position to click as you think. Then, you can see the OP Auto Clicker only works in the chosen Position.
Step 9: Now, you are free and do not have to worry about mistakenly placing the mouse while the game is running because we have set the Cursor Position to be fixed.
Step 10: You even have the option to record your mouse moving sequence and use it to imitate the past sequences, again and again, step Step 11: To start the Auto Clicker for the Roblox game, you can press the default hotkey as F6. F6 is the default hotkey but can be set in your choice of any new hotkey.
That's it, You are done. Use OP Auto Clicker in your game and be a winner.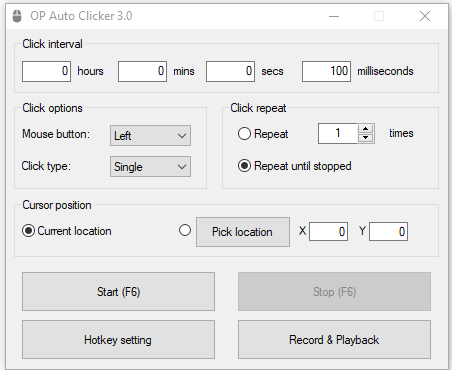 Benefits of Using OP Auto Clicker in Roblox
Improved Scores
As you know, Roblox is played by 2 million users every month and every day new users start Participating in the games. So all are playing for the better scores, but it is very hard to compete against all others when we are playing Manually. So with the help of OP Auto Clicker, you can hit the top Scores and can get more resources, as OP Auto Clicker makes more clicks extremely fast, you can get more points more easily.
Easy Multitasking
Most gamers not only play gaming, but they can also do Multitasking in their system, so Auto Clickers are a more convenient and fast means of executing a number of tasks on PCs.
Saves a lot of time
Time is valued more than any other thing in the world. When it comes to saving time, OP Auto Clickers will be the best for you. You can Complete a number of tasks with the help of OP Auto Clicker.
Is there any limit to Using OP Auto Clicker for Roblox?
Most of the time, Roblox did not disallow Auto Clickers from being used in the Roblox games. However, some of the Roblox mini-games are created by game lovers themselves. So as the games are created by players themselves, they can find auto Clickers being used and they have the Option to ban any user who is using the OP Auto Clicker.
Some developers can use the bots to detect third-party software. Yes, it can even detect the Auto Clickers used in the games.
But to survey using the OP Auto Clicker, you can limit the usage of OP Auto Clicker. But if you are uncareful about the usage of the Auto Clicker, then you will be banned from playing the Roblox game.