Are you a person stressed or tired of making clicks on the mouse or the keyboard? Then you are at the right place and you are going to learn more about OP Auto Clicker in this article.
OP Auto Clicker is software that makes repetitive and more mouse Clicks automatically on your devices. It can be performed based on the settings we are given as Input like the number of Clicks, Location, and Interval of Clicks. It will save your time and make it easier for you to do the tasks that you are doing often Manually.
How OP Auto Clicker Works?
OP Auto Clicker Works in two ways, one is Predetermined Location, here we can set the specific location of a mouse Cursor and allow OP Auto Clicker to make more Clicks, like on the left side of the Screen.
And, the Other one is the location of your Present Cursor. You can Customise in the settings and you can move your mouse where you want to make multiple Clicks, in gaming you can use this by Pressing accelerate or Power Up button or upon any button on the Screen.
These two ways will even make your daily work easier than usual by Using OP Auto Clicker.
OP auto clicker is famous among game lovers and software testers to test out new features of any product. And, especially if you are a lover of Minecraft then surely you would have known about this Auto Clicker.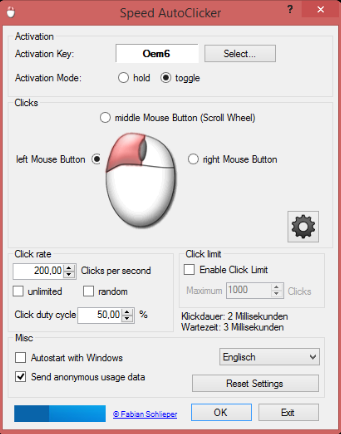 Best Features of the OP Auto Clicker
OP Auto Clicker is a free and Open Source Software, so anyone can use it regardless of less or more works to be made automatically.

OP Auto Clicker has an easy and User-Friendly Interface, allowing users to use it easily.

Most of the Software Programs are intended to take more CPU power, but the Operation of the CPU when Using OP Auto Clicker is Low.

OP Auto Clicker does not have any Advertisements or any Malware which distracts People.

It is easily Transportable and downloadable from OP Auto Clicker's Official Website.

Unlike some of the other Software, OP Auto Clicker does not have any Viruses.

OP Auto Clicker has a record option to record all the activities of our system.
Uses of the OP Auto Clicker
OP auto clickers have many users for people, here are some that may be unknown to you.
Mostly it will be more beneficial for gamers as they are playing many clicker games like Minecraft, Roblox, and doge miner. Players use Auto clicker to imitate clicks on games. If it is a shooting game, then the one tool gamers can go for is the OP Auto clicker.

If you are a Programmer, then it will be helpful in finding bugs in the software. When the OP auto clicker makes random clicks in the program interface, you can check out how the program reacts to the clicks. If a program fails in clicks, then he can get the feel, Woohoo, I got this bug using OP Auto Clicker.

People need to take a rest when they are working consistently online and if you are in the IT field and working in a company, you have to stay active from start to end. By using Auto Clicker, it will keep the screen active and awake based on the time interval and denote to others that you are active and not idle.

If you are a person involved in data entry jobs, you have to enter the same data often in different fields. By using Auto Clicker, it can fastly fill data in different cells or it can perform similar tasks that you are doing manually. And, sometimes, you have to enter the same data using a keyboard, then the keyboard auto clicker will be very useful for them.

If you are a person who is constantly looking for an email, then it will help you in refreshing the page for you. Hereafter just sit back and relax and look for emails and read with a hassle-free mind with the help of the OP auto clicker.

Sometimes you can get online deals for a minute and while you are looking, you may miss to grab it. But, by using Auto Clicker, you can set and define where it has to make a click and you can easily grab the deals. For instance, if you are getting deals by clicking a button, then you can set a predetermined mouse location and make a click automatically no matter what time it is, and when an offer is visible, you can easily grab it.
Also Find, 10 Apps to Install on Mac for Better User Experience
Parameters in the OP Auto Clicker
You can see in the below image there are different parameters in the OP auto clicker, here are some important parameters
Class interval
As you can see in the above image, you can see the class interval, where we can set timers of when auto Clickers should make clicks and we can set clicks in what interval of time.
Click Options(Mouse button)
Where we can define the mouse button to be on the left side or the right side and make it work as we intended.
Click Repeat
By using this Parameter, you can specify the Clicker to click a number of times or you can allow Clicker to make clicks until you stop it.
Cursor Position ( Current Position )
By using this Parameter, you can set the Cursor location as left or right or you can set a Specific location.
Hotkey Settings
Many People love to start and start the Auto Clicker by using specific Keyboard keys( HotKey). Most people love F6 as it is the default Hotkey to start and Stop the Auto Clicker, but you can set the hotkey of your own Choice.
Hope you have got all things about OP Auto Clicker in this Article, Use the OP Auto Clicker to ease your life with repetitive things. Yes, Sometimes sharing this article with your friends will make it easier than before.