Searching for the best luxury perfume gift sets online? Check out our list of trending perfume gift sets that make mesmerizing presents for every occasion!

Have you ever wondered- despite endless gift options, nothing ever comes close to the perfection of perfume gift sets?
Or,
Why do perfumes make good gifts?
Well, it is because perfumes or fragrance preferences are very personal. And that's why when someone receives perfume as a gift, they are reminded of how well you know or understand them. Fragrance sets make thoughtful and opulent gifts wrapped with love, affection, and admiration for the recipient.
Why You Should Gift a Perfume?
– Perfumes are absolute charmers! If you want to impress someone, gift a perfume; it will communicate your taste and style.
– Unlike showpieces or decor items, perfumes are very useful. They can be used every day or to spice up special events.
– Perfume gift sets online come with detailed descriptions of the notes and scents of the perfumes, making it easy for you to choose one.
– Perfume gifts are suitable for almost all occasions, such as birthdays, valentine's day, anniversaries, etc. All you have to do is pick an occasion-appropriate scent. For example, a sensuous perfume as a festive gift may not be the best of ideas.
We do understand finding the perfect perfume for your special ones can be overwhelming. But, the key to discovering the right scent is in the little details, such as the recipient's personality.
Here are 6 tips to help you find the right perfume for your loved ones:
Don't let your individual preferences override your decision- The gift is not for you, so pick a scent based on the age and style of the receiver.
Do a little research online if you are unfamiliar with fragrance families and notes. It will help in understanding the perfume compositions.
Decide the notes before starting your search for perfume gift sets for women online.
Fix a budget: it will prevent you from getting confused because of the variety of options available online
If you are not sure what the recipient would love or hate, pick a perfume gift set with different perfume scents.
Remember to check labels and packaging to ensure you are purchasing only authentic perfumes online in India.
5 Trending Perfume Gift Sets Online in India
A Quick Overview:
| | | | |
| --- | --- | --- | --- |
| Bets Perfume Gift Sets of 2022 | Brand | Budget | Highlights |
| French Essence Bloom– Perfume & Deodorant Gift Set | French Essence | Under 1000 | Luxury perfume setLong lasting fragrance |
| Titan Skinn Women Miniature Fragrance- Celeste & Sheer | Skinn by Titan | Under 2000 | Skin-friendly and exotic scents |
| Forest Essentials Intense Day & Night Perfume Miniature Set | Forest Essentials | Under 1550 | Floral fragrances with the goodness of Ayurveda |
| LIBERTY Gift Box Women- Dusk & Bliss | LIBERTY | Under 3000 | Fresh, sweet and sensual scents |
| French Essence Perfume & Deodorant Gift Kit- Grace | French Essence | Under 1000 | Floral and fruity scents made from exotic ingredients. |
French Essence Perfume & Deodorant Gift Set- Bloom
This premium deo & perfume gift set for women is an ultimate class! Bloom by French Essence perfume is cruelty and paraben-free. It is crafted from exotic French ingredients, perfect for making ladies feel special. Its opening notes are citrusy lemon, aromatic lavender and bergamot, heart notes are geranium and cedarwood, and signature notes are a beautiful blend of musk, amber, and moss.
This combo set is very versatile and well-suited for every occasion. The Bloom long-lasting deodorant makes intense workouts fun, while the floral-fruity fragrance of the perfume adds vibrance to any personality.

Skinn by Titan Women Miniature Perfume Set- Celeste and Sheer
Skinn perfumes are Titan's range of luxury perfumes at affordable prices. This Skinn perfume set (Celeste and Sheer) will make an excellent addition to any women's vanity. The playful notes, fresh fragrances, and beautiful packaging make this set a wonderful gift.
Celeste is a vibrant mix of woody, fruity, and floral aromas. Its top notes are grapefruit, pear, and blood orange, middle notes are soft floral scents, and end notes are a refreshing mix of sandalwood, amber, and patchouli.
Sheer perfume for women is a fruity blast with vanilla signature notes. It is perfect for everyday use as well as casual day outings with friends. Its opening notes are a vibrant mix of strawberry, pink pepper, and pear that remind the wearer of joyful moments.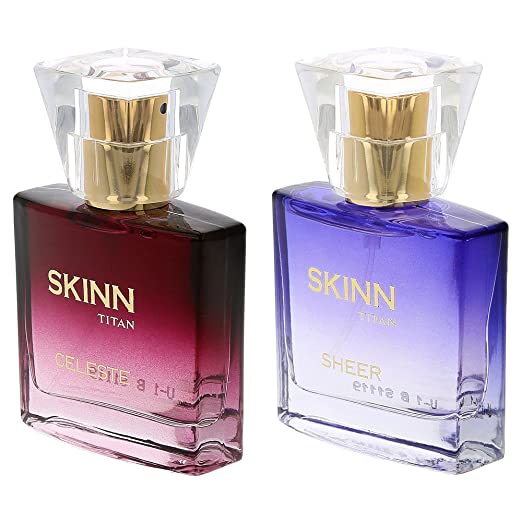 Forest Essentials Intense Day & Night Perfume Miniature Set- Chandani Raatein and Sunehre Din
This set includes travel-size mini perfumed body mists- one for energizing mornings and one for sensuous evening engagements! Forest Essential luxury fragrances for women are enriched with the nourishing goodness of Ayurveda.
Sunehre Din opens with a beautiful Rose Absolute fragrance and settles into a surprising woody scent. It is a long lasting ladies perfume for daytime use.
Chandani Raatein perfume is a soft-seductive scent with Ruh Motiya and Jasmine floral notes. Chandani Raatein translates to starry nights, and this is exactly what this perfume is all about- creating magical evenings!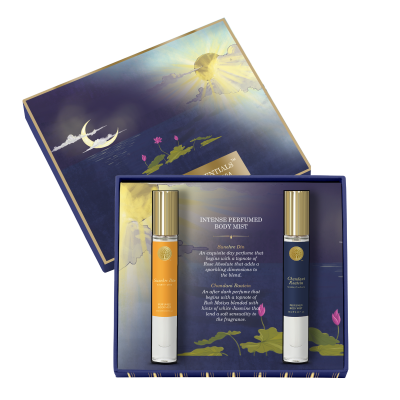 LIBERTY Gift Box Women EDP- Dusk & Bliss
This makes an ideal gift for the free-spirited women; who go with the flow and are not afraid of chasing what their heart wants!
Bliss has a refreshing yet calming aroma with the warmth of love. Its fragrance notes are orange blossoms, blackcurrant, patchouli, and vanilla.
Dusk celebrates the untamed, bold, and adventurous side. Its signature notes are a combination of moss, patchouli, and vanilla, making it perfect for pulling all-nighters.

French Essence Perfume & Deodorant Gift Kit- Grace
This well-crafted gift set is from a home-grown brand French Essence. If you want to gift a luxury fragrance online on a budget- look no further than this French Essence gift combo pack.
The Grace perfume for women is a beautiful symphony of citrus, floral, and musky aromas. Its no-gas formula makes it a long lasting ladies scent.

French Essence Grace body deodorant for women is skin-friendly, paraben free, and highly effective at masking body odour. Its charming fragrance is well-suited for day-to-day activities. Its scent is a blast of energizing citrusy and floral aromas.
One amazing thing about our list of India's top 5 perfume gift sets online is- these are all home-grown companies. And all these perfumes are made in India!
Shower your loved ones with affection or simply celebrate yourself with these perfume for women gift sets.