An OCR tool is a time-saving device. So, which of them are the best in 2022?
Converting images or documents for editable text is one of the critical requirements of higher productivity. That's why OCR is growing rapidly; by 2030, it will have grown by more than 15% of its state today.
But what exactly is OCR? How does it work, and how exactly is it helpful? On top of that, which are the best OCR tools one can use in 2022? To find out, let's dive right into it and discover the answers.
What Are OCR? 4 Types Of OCR
Optical Character Recognition (OCR) is a technology that converts images of text into machine-readable text. OCR software can read scanned documents and convert them to editable text, which can then be edited or manipulated in various ways.
Optical Character Recognition (OCR) is the process of converting images of text into machine-readable and editable text. OCR is a technique that can be used to turn scanned images of paper documents into editable text. There are four main types of OCR:
IWR or Intelligent Word Recognition: This type of OCR recognizes the handwriting on a document and converts it into machine-readable text.
Optical Character Recognition: This type of OCR recognizes printed or typed characters on a document and converts them into machine-readable text.
ICR or Intelligent Character Recognition: this type of OCR comprehends specific characters on a document, including signs, words, patterns, etc.
OMR/IMR or Optical/Intelligent Mark Recognition: this allows the AI to recognize marks such as signatures, mathematical signs, etc.
These four main types of OCR technology are found in every OCR or image to text convertertoday. This allows them to capture text from all sorts of images, documents, etc.
How Is OCR Helpful?
Optical character recognition (OCR) is a technology that automatically identifies text in images and converts it to editable text. Since Optical character recognition is an automatic process that converts images of text into machine-readable form, it's handy in many situations.
Mainly because you can scan an image or document with it, then get it back in the form of editable text. That's why the most common use of OCR is for scanning and digitizing paper documents to produce electronic versions.
OCR software can also be used for tasks such as data entry, where the software automatically enters text from a scanned image of a document. It is helpful because it can make the process of scanning documents and converting them into editable text much more accessible.
OCR software can also be used for other purposes such as data extraction, data conversion, information retrieval, or even automated translation. The amount of time saved from this technology can be used to do other and increase productivity significantly.
Top 5 Photo to Text Converter To Extract Text From Image
The best kind of OCR tool allows you to efficiently capture text from images and make it editable. Therefore, the tools we will discuss today are thoroughly tested and deemed ideal for any sort of purpose.
From students to professional writers, all of them can employ these tools. On top of that, businesses and marketers can make the most of them equally. Therefore, without further ado, here are the top 5 photos to text converters available in 2022:
Prepostseo is one of the conglomerates of astounding tools, and their image to text converter doesn't fall behind in this comparison. This outstanding OCR tool does it all and allows you to capture text from images, documents, PDF files, etc.
Besides that, you can upload three images at a time, or 30 if you're on the paid program. Or, you can simply enter the image's URL or import it from Google drive for further efficiency. These factors make Prepostseo tool our number one priority on the list of OCR tools.
Editpad's Image to Text Converter has become quite an outstanding offering for people. This simple yet stellar tool has everything you need to make the text in your images editable. On top of that, it features an exceedingly easy UI design, which everyone can use without any hassle.

As for the images, it supports only one image or document at a time. However, that's more than enough in most cases. And the tool also ensures thorough attention to detail and doesn't make any spelling errors when extracting texts from images.
Imagetotext.Info is yet another great option for writers, businesses, or marketers. This more than capable OCR tool allows you to drag and drop the image you wish to extract editable text from. Or, simply upload it by browsing your computer.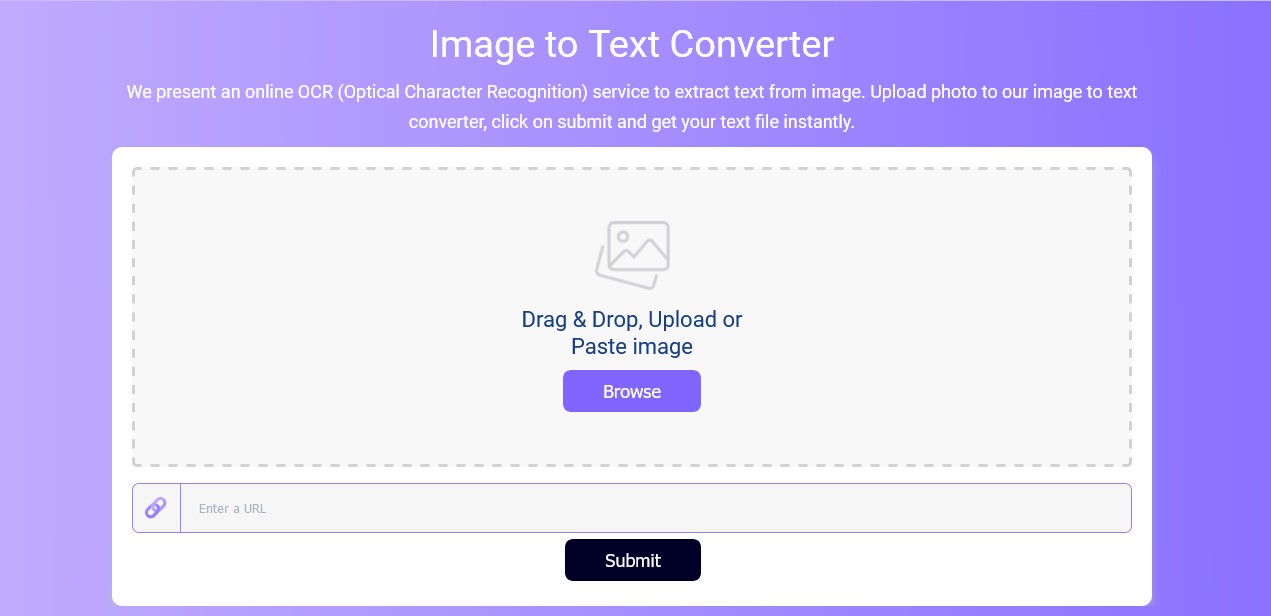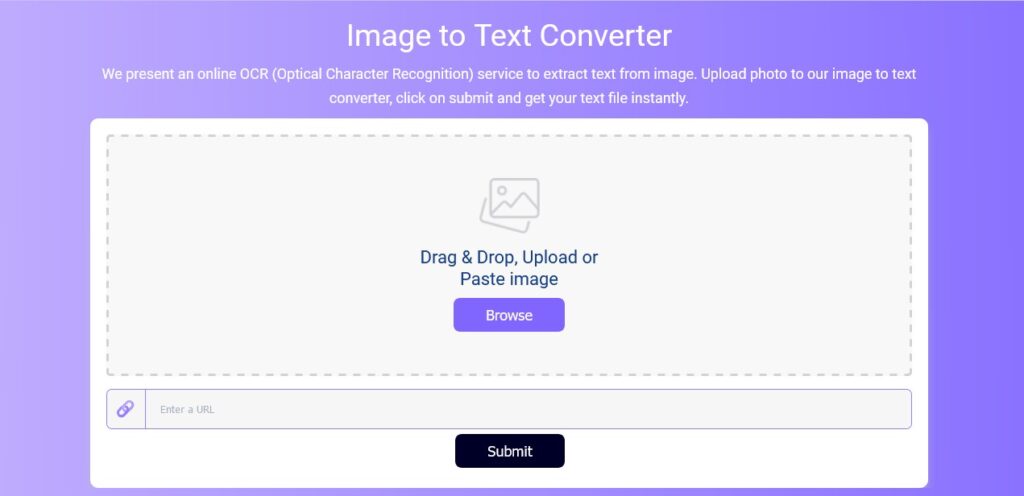 It's quite efficient at reading both hand-written and typewritten text. Therefore, it's suggested to use for extracting texts from all sorts of documents and images.
Ocr.best is quite a formidable OCR tool and it surely delivers on the promise made by its name. Featuring some of the most advanced algorithms in OCR tech today, this tool knows how to extract text from images or PDF documents.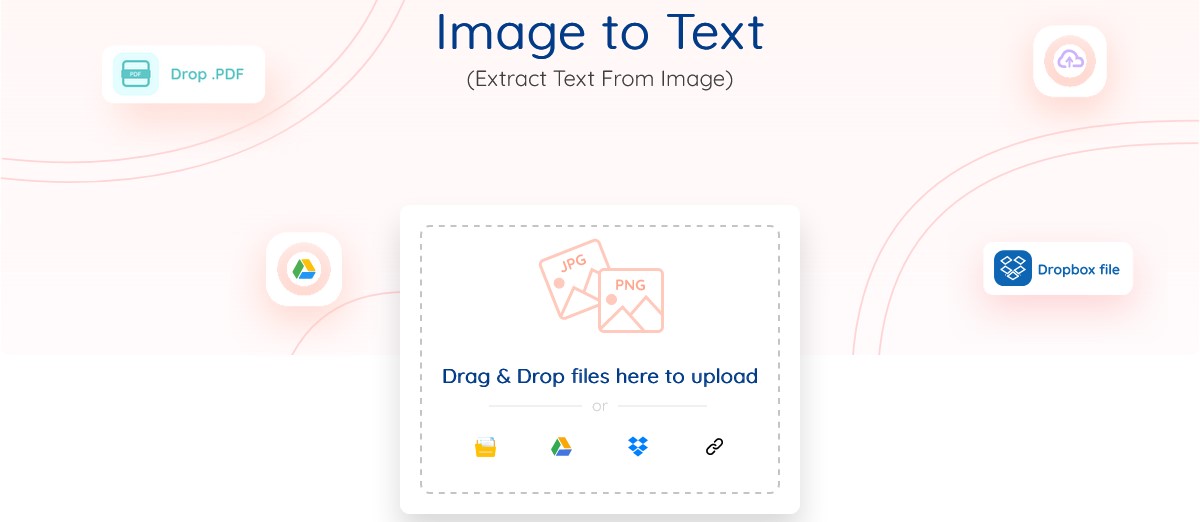 On top of that, it's one of the few tools with a lot of upload options, such as Dropbox, Google Drive, uploading from a computer, and using an image's URL.
5. Image to Text Converter by CardScanner.CO
CardScanner.CO is yet another stellar website for its many great tools. However, the image to text converter brings the bulk of the audience to this website and allows users to efficiently extract text. This tool is easy to use and very easy on the eyes.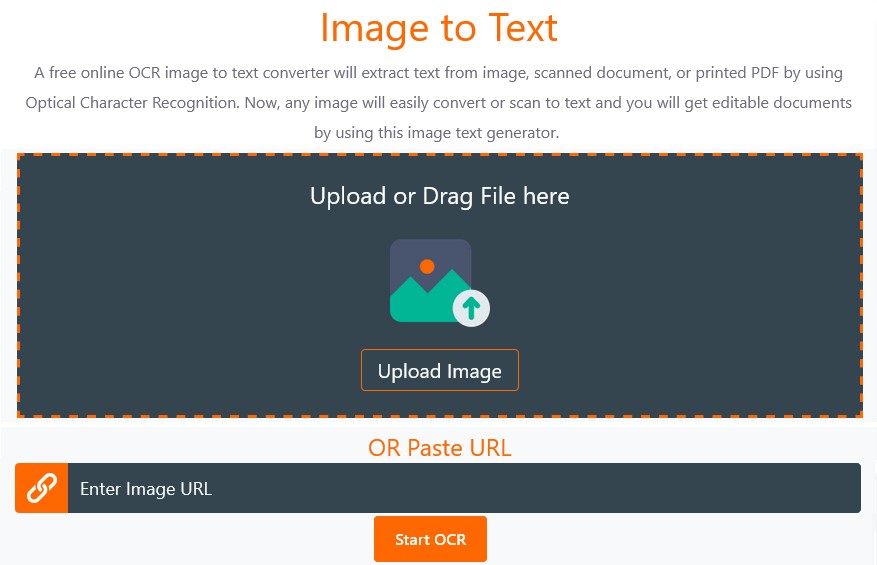 Once again, the working of this tool is simple, as all you need to do is upload the image or enter the URL of the image you wish to extract. Then, leave it up to the OCR tool to work its magic.
6. Image to Text Converter by Simple OCR
Simple OCR image to text converter is the only downloadable tool on our list. This outstanding software allows you to capture images offline, and it's ideal for students or writers that usually run into internet or connectivity issues.


Besides that, the once-downloaded nature of this tool allows you to save a lot of bandwidth if you're on limited data. This factor alone made it worthy of being featured on our list.
7.      Image to Text Converter by Branah
Branagh's image to text converter is one of the oldest in the business yet one of the most effective.
The tool follows a simple UI design, allowing you to conveniently capture text. Once you use this tool, you'll know how easy and simple it is—even though it has much more design elements and features.
Conclusion
These are our five picks for the best OCR tools available today. They can help you extract text from your images efficiently, and they are great at what they do. So, pick the one you think suits you the most in terms of productivity.