You may think that dental checkups are not necessary and that it is just about getting your teeth cleaned. But these dental checkups could be more than that. Your dentist visit might include, for instance, detecting cavities, catching gum disease, checking your filling, and review of oral hygiene etc.
What are fixed braces?
Fixed Braces are one of the best choices for teeth straightening because of their reliable and predictable results. Fixed braces are used to straighten teeth using a combination of wires and metal brackets, attaching small square brackets to the front of each tooth and connecting them using a thin wire. Every 6-10 weeks, your dentist will arrange a checkup and change and adjust the wires attached to your brackets by small rubber bands.
Types Of Fixed Braces
Fixed metal braces: fixed metal braces consist of brackets that are fixed to the front of the teeth and connected by metal wires. These braces are the most common treatment option for adults and teenagers.
Lingual braces are almost the same as fixed braces; the only key difference is that they are attached to the inside surface of teeth rather than to the front, meaning they are not visible.
Ceramic braces: these braces are less visible than traditional metal fixed braces. Ceramic brackets use transparent thin metal wire. Plastic or white-coated wires are also used in some cases.
Rewarding Benefits of Fixed Braces
The major benefit of fixed braces is that they provide excellent control of your teeth as they are fixed in one place, and you can always move your teeth confidently.
They are durable, strong, and they rarely break.
If you want fixed braces but do not like the idea, you can use tooth-coloured ceramic braces for a more aesthetic smile.
Fixed braces are simple rather than removable aligners, which require replacement every two weeks, and you have to wear them for at least 22 hours a day.
They are great and effective at moving teeth to where you want them.
They are versatile; fixed braces help with anything from crowding to simple to significant spacing.
They are affordable; for many people, they are cost-effective and available at reasonable prices.
How do fixed braces work, and how long do they take to work?
Fixed braces work by slightly moving your teeth to their right position by putting gentle pressure. Small brackets that are joined with wires are used to create tension, which slowly pulls your teeth into the right place.
The length of time needed for this treatment is solely based on the severity of orthodontic problems, which teeth need to be pulled out, and which need moving. Usually, back teeth take more time to move because they have numerous roots and a larger surface area than front teeth.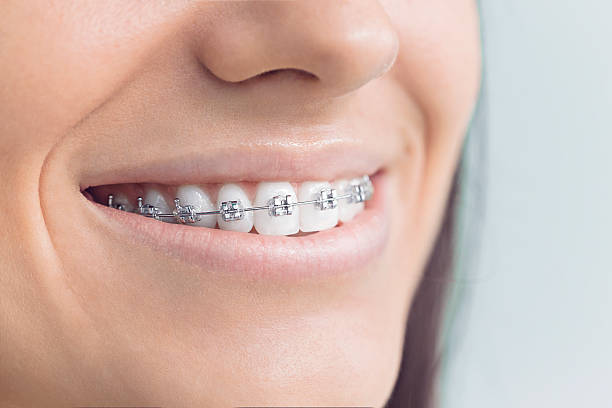 Problems with teeth can be caused and inherited by:
Spaced or crowded teeth
Irregular position of teeth
Missing or extra teeth
Premature loss of baby teeth
Thumb sucking
Under, over, or cross bits
Gum or decay disease
Trauma or accidents
Cantt Dental Care services:
Artificial teeth
Dental implants
Teeth whitening treatment
Root canal Treatment
Orthodontic treatment
You can easily approach us for:
Fillings
Bridges
Hygiene issues
Implants
Dentures
Crowns
High-quality dental crowns
Crowns are commonly known as "caps" covering the complete tooth. Crowns restore the appearance, shape, size and strength of the teeth.
We use various materials for crown making depending on the preference of the patient and the tooth's condition.
Dental crowns offer protection from breaking or cracking of teeth to cover dental implants and discolored and misshapen teeth.
The dental crown price in Pakistan varies from clinic to clinic and city to city.
It also depends on the material and types you choose.
The Dental Crown Price in Pakistan varies from 5000 to 20000 per crown, and the zirconium crown ranges from 12,000 to 15,000. 
Around-the-clock service
Cantt Dental Care offers a wide range of quick services. No matter your requirement, we are here to provide it to you.
We take care of your dental hygiene as it plays a vital role in your dental and oral hygiene. Our team helps you maintain the cleanliness of your teeth.
Our highly qualified clinicians offer tooth filling procedures using high-tech equipment and tools and assure satisfactory patient outcomes.
Bleeding gums? Do not worry. Visit Cantt Dental Care, and we will take care of you.
Cantt Dental Care focus on child-friendly pediatric dentistry for all. We make sure your child feels comfortable in our environment.
Our team contains skilled and professional oral surgery experts.